A few organizing products will go a long way toward getting your garage or workshop in shape.
The minimum, I would say, is a shelving unit and some plastic bins that fit on it easily. The next step is some hooks to hang large objects (see the older post: What to do with those tool hooks.) Getting fancier: people have been using pegboards for years to hang small tools. Rumor has it, Julia Child used one in her kitchen.
If you have someone in your family who really loves the garage or workshop, a coordinated and flexible system looks fantastic and is easy to use. Many big-box stores have their own version, but they mostly work the same way. Our family chose the Gladiator system made by Whirlpool, and sold in various stores.
The basis of the system is a track that is mounted very securely on the wall:
If you have buckets of money, you can cover the whole wall with these, but it's not necessary; just decide where you need to hang things. Then, depending on what you have to store, you hang accessories from the tracks.
Tools hang on hooks: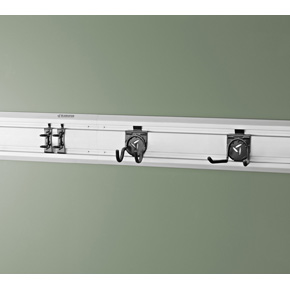 Sports equipment, large tools, and other bulky stuff fit in large bins or specialized containers:
Upper cabinets may hang from tracks, while lower cabinets sit on the floor:
Matching shelves and workbenches are available:
If you don't like where a hanger or cabinet is, you just unlatch it from the track and move it where you want: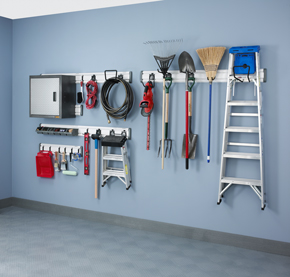 We have found it to be easy to use, well-constructed of good materials, and very "manly-looking." It is rather expensive by the time you get a garage-full. However, we bought it a bit at a time, over a few years, taking advantage of sales. A piece of track or package of hooks was certainly a more popular Christmas/birthday/Fathers' day gift than a tie.
It's important to plan what you want to hang, figure out how large it is and where it will fit, before you start. Lay all the tools out on the floor, and do some counting and measuring before you start buying and drilling. The gladiator website has a planner to get you started: http://www.gladiatorgarageworks.com/
All the photos used above are from that website.
No product or remuneration was received for this recommendation. We paid for it just like everyone else.