Big, chunky, (heavy), statement necklaces are in fashion. When they're not hanging on your neck, what do you do with them?
They do not fit well in most jewelry boxes. They get tangled, dusty, and look messy on a dresser.
How about hanging them up and turning them into wall art?
Get some fancy hooks (they do not have to match), plan the arrangement on your floor/desk/counter so you know how much space to leave around each one, then mount them on the wall, like this:
source: Design Sponge   http://www.designsponge.com/2011/09/before-after-artfully-curated-light-filled-bedroom.html
Here are some hooks that would work:
pretty
rustic (would hold at least three)
multi
All from  http://www.anthropologie.com/anthro/category/hardware/home-hardware.jsp?cm_sp=TOPNAV-_-HOME-_-HOME-HARDWARE&cm_re=TOPNAV-_-HOME-_-HOME-HARDWARE
The hooks above are fairly expensive (though they will last forever and can hold keys, coats, or hats in the future.)
If you would like to hang them on the wall for less money, and fewer holes in the wall, try 3M Command hooks, like this: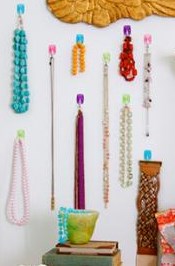 source: http://www.command.com/wps/portal/3M/en_US/NACommand/Command/Smart-Ideas/Smart-Projects/
Just be sure to follow the instructions on the package, to avoid damaging the paint on your wall.
If you don't want to display them, hang them in your closet.
If there is a bit of wall space, the command hooks will work. If you don't have wall space, and have wire shelving, a very inexpensive set of shower curtain hooks or these plastic hooks from Ikea will work: