Deep drawers can be a great kitchen helper. Unlike cupboards, you can roll them out to see what is in the back.
They are not so great for short things; stacking stuff on top of other stuff is just as annoying whether it is in a cupboard or drawer; you're always lifting and shifting.
Unless you do this: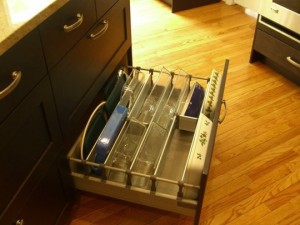 All those shallow dishes are now "filed" for easy access. And easy access, as we know, means easy putting away.
This fabulous idea is courtesy of the Kitchn, 
http://www.thekitchn.com/better-organization-file-your-pots-and-pans-in-drawers-175071
It appears to be an Ikea drawer organizer.
A similar result can be achieved with a lid rack, or tension rods.