Drawers, like cabinets, are not stretchy. You can get more in them by using the entire depth. Often we use only the bottom half, so there is a lot of "air space" above the utensils.
1. Get a tray or some containers to keep the items organized.
2. If the drawer is deep enough, use a two-level organizer. Put the less frequently used items in the bottom.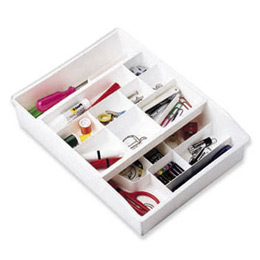 (Containerstore.com)
(Cabinetparts.com)
Same amount of space, twice the storage!